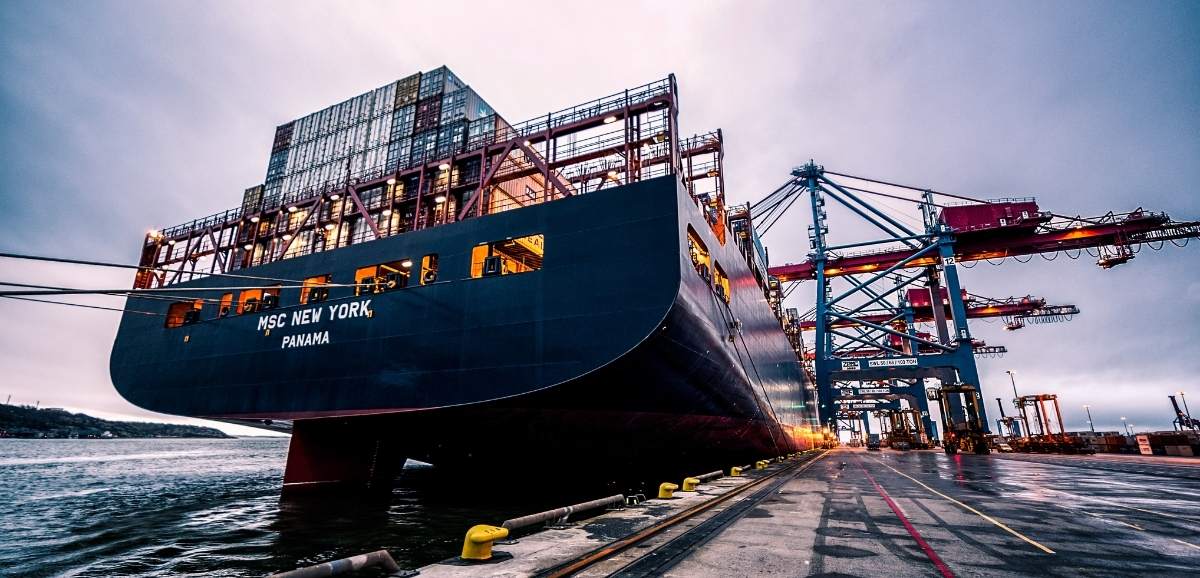 Shipping Forms & Container Guides
plus useful links
AWB:
Air Waybill
BAF:
Bunker adjustment factor = surcharge/discount on the ocean freight rate to offset oil price – either fixed sum per TEU or in percent
Barge:
Standardised large floating container
B/L:
Bill of Lading
Bond:
Above all in the USA region – single entry bonds and continuous bonds are a form of security or guarantee that customs duty is paid in the USA
Break Bulk:
Non containerised shipping of goods; goods are loaded on conventional ships or Ro/Ro ships
CAD:
Cash against delivery = clause stipulating that the agreed payment is to be made after certain documents (generally bill of lading) are handed over
CAF:
Currency adjustment factor used to calculate a surcharge or discount on the ocean freight rate
Cargo Aircraft Only (CAO):
Indicates hazardous goods that may only be loaded on cargo planes
CFS:
Container freight station = container loading and unloading point for LCL shipments
C.O.D:
Cash on Delivery
Compulsory Payment:
In certain regions, the maritime shipper or air freight carrier only agrees to transport the goods following payment at the port of departure
Congestion Surcharge:
Surcharge on ocean freight rate for mooring fees in the port if it is "congested"; generally fixed amount per TEU or W/M
CSC:
Container Service Charge (also see THC)
CY:
Container Yard = delivery or reception point for full on FCL containers or empty containers
Demurrage:
Mooring fee if agreed loading or unloading time is exceeded
Detention:
Charge for the late return of containers
DGR:
Dangerous goods regulations = govern the air transport of dangerous goods
ETA:
Estimated time of arrival
ETD/ETD:
Estimates time of sailing / Estimated time of departure
FCL/FCL:
Full container load = container from the sender to the recipient
FCL/LCL:
One sender but more than one recipient per container; the container is unloaded at the CFS in the destination port / place of departure
Feeder Service:
Feeder service between secondary ports or smaller ports and main ports
Freight Prepaid:
Sender or supplier pays for the freight transport in advance
Freight Collect:
Sender or supplier pays for freight transport when he receives the goods
Fuel Surcharge:
Fuel surcharge levied by the airline/carrier per kg
Full Set:
Full set of original B/L, generally 3/3
G/A:
General average = accident of a ship at sea
Gross Weight:
Weight of goods including packaging
HAWB:
House Air Waybill for the individual consignment on a consolidated shipment
IATA:
International Air Transport Association
I.C.C:
Institute Cargo Clauses = general insurance terms for good transport
IFP:
See BAF
IMDG:
International code issues by the IMO governing the maritime shipping of dangerous goods; generally in conformance with the German GGVS regulations
IMO:
International Maritime Organisation = an advisory international maritime shipping organisation whose mission is to improve shipping safety
In Bound:
Duty-unpaid goods under customs bond
L/C:
Letter of credit
LCL/FCL:
More than one sender but one recipient per container – the container is loaded at the CFS in the country or port of departure and shipped right through to the recipient
LCL/LCL:
Less than container load = general cargo consignments shipped by (consolidated) container transport from CFS to CFS
Lower Deck:
Loading on the lower deck (passenger + freight aircraft)
Main Deck:
Loading on the main deck (generally freight aircraft)
MAWB:
Master air waybill = waybill fro the individual consolidated shipment or direct consignment
M/M:
Minimum Freight
NVOCC:
Non-vessel operating common carrier = transport company/carrier who undertakes to transport goods by sea without owning his own ships; frequency found in the LCL/LCL segment; NVOCC bills of lading are fully bankable
Payload:
Weight of goods loaded into a container
PAX:
Indicates hazardous goods that may also be loaded on to passenger planes
Sea way-bill/Express B/L:
Sea waybill for which no originals are created; not negotiable like the B/L – allows rapid and problem-free delivery of goods in the destination port; cannot be used in all regions; is not used in the case of a letter of credit
Security Surcharge:
Security surcharge levied by the airline per kg
SMA:
Security manifest amendment fee
SMD:
Security manifest documentation fee
Stripping:
Unloading of (consolidated) containers
Stuffing:
Loading of a container
TEU:
Twenty-Foot Equivalent unit, 20′ ISO Unit
TACT:
The Air Cargo Tariff
THC:
Terminal Handling Charges
Three Letter Code:
Every airport has one comprising of three letters e.g.: CHC = Christchurch, AKL = Auckland
ULD:
Unit Load Device (e.g. container, pallet, etc)
VAT:
Value Added Tax
Volume:
Dimensional weight in the airfreight sector based on a ration of 6:1; calculation L cm x W cm x H cm / 6000 = dimensional weight to be compared to the actual weight of the shipment. The higher weight is used as a basis for calculating freight fees.
Air Freight
Length (m) x Height (m) x Width (m) x 167 = Volumetric Weight in KGS
Sea Freight
Length (m) x Height (m) x Width (m) = cubic metres. Seafreight has a 1:1 ratio ie 1000kgs = 1cbm (except for US destination beyond Los Angeles).
Courier
Length (m) x Height (m) x Width (m) x 200 = Volumetric Weight in KGS
Road Freight
Length (m) x Height (m) x Width (m) = cubic metres, 1:3 ratio ie 1000kgs = 3cbm
SEAFREIGHT CONTAINER DIMENSIONS (metres)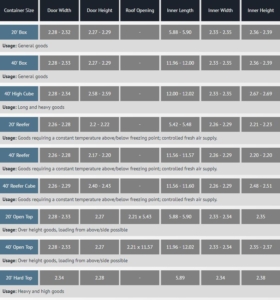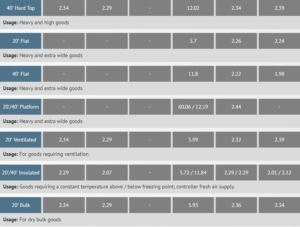 The International Chamber of Commerce (ICC) has introduced new Incoterms® 2010 rules that can be applied for new contracts to explain the responsibilities of buyers and sellers when trading goods internationally. More information about Incoterms® can be found here.